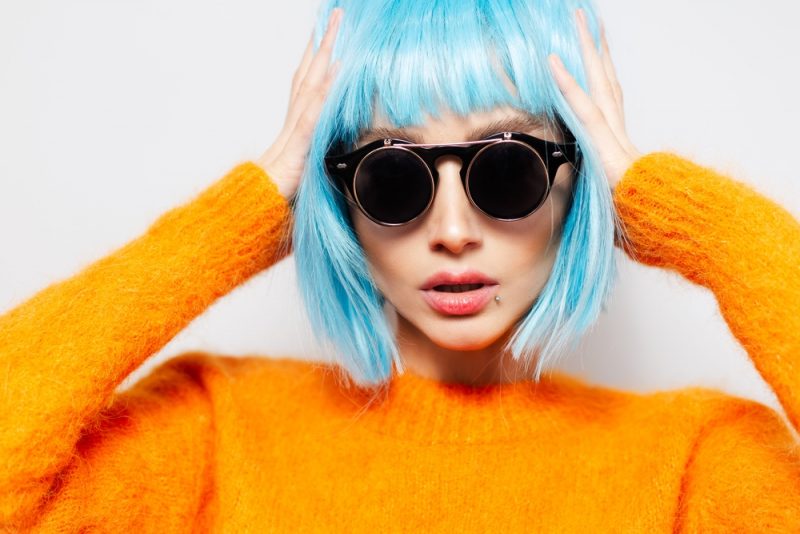 Celebrities may be in the spotlight for how they use wigs to change their look from one red carpet event to another, but they're not the only ones who have discovered the benefits of this fantastic hair product. Wigs have come a long way in the past few years, becoming more affordable and easier to find and more natural-looking, encouraging more and more women to give them a try. According to a recent report, the hair wig and extension market is currently worth $5.8 billion, and experts estimate that it will be worth $13.3 billion by 2026, growing at a CAGR of 13%!
So, hair wings won't be going anywhere anytime soon. If anything, they're about to turn into a massive trend, only this time, everyone can enjoy it, no matter the age or face shape. Wigs are the dream hair you can buy.
Whether you regret cutting your hair short, you're undergoing medical treatment, and you could use a confidence boost, or you want to experiment with various cuts and colors without sacrificing your natural hair, wigs are the perfect option. From sleek and straight platinum blonde ponytails to dark violet bob cuts, you can have it all. But here's the thing: buying a wig for the first time can be confusing.
There are countless wig variations on the market, and if you're not careful, you can end up with a tacky, low-quality, fake-looking one. To make sure you look and feel your best in your brand-new headpiece, these are the most important things to keep in mind: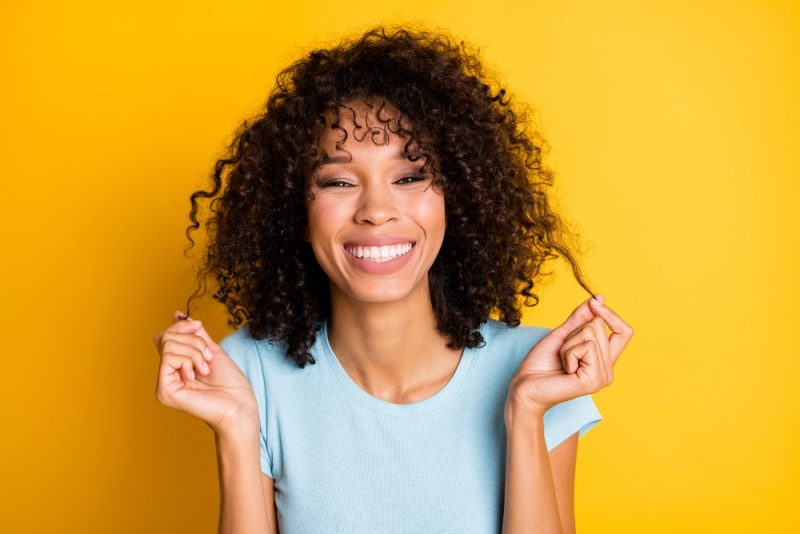 THE BIG QUESTION: HUMAN VS. SYNTHETIC HAIR WIGS
This is the first choice you'll have to make when getting a wig, and it's essential to carefully weigh the pros and cons of each option. Human hair wigs are made from natural human hair, which means that they look natural and that you can style and wash them however you want. If you want straight hair one day and waves the next day, you can use your heat tools as if the wig were your actual hair.
You can even dye a natural hair wig, so if you're curious how you'd look like as a redhead, but you're not ready to sacrifice your natural hair, you can go for it. However, you'll need to keep in mind that human wigs are more expensive than synthetic ones – especially if all the hair comes from the same donor.
Synthetic wigs, meanwhile, are more affordable. They come pre-styled, so they're a great, no-fuss option if you're looking for a short-term solution or you want to see if a particular haircut/hair color suits you. However, they're made of artificial fibers such as acrylic, polyester, and PVC instead of human hair, and that usually shows.
If human hair wigs have the same texture and fluidity as your natural hair, synthetic ones are generally unnaturally shiny. Synthetic wigs also come with lots of styling limitations and have a lower lifespan than natural ones. They may be tempting thanks to their lower price but keep in mind that you might be unhappy with the result, and in the end, you could pay more for several low-quality synthetic wigs than for one high-quality natural one.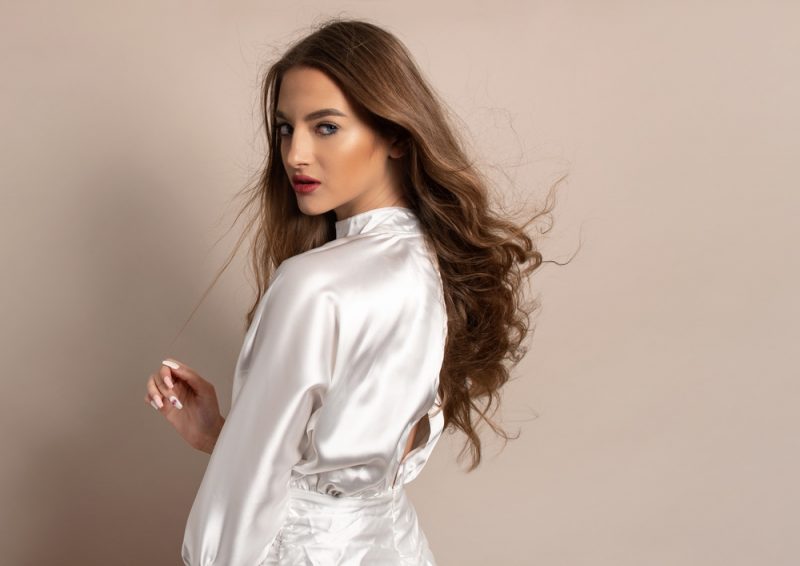 HOW TO CHOOSE THE RIGHT HAIRLINE
If you're looking at a natural hair wig that should, in theory, look just like your natural hair, and yet there's something off about it, the hairline or cap construction could be to blame. Ideally, the wig should blend in seamlessly with your natural skin tone, creating continuity. If you can tell exactly where your skin ends and where the wig begins, that means you need to look for a different cap construction.
For natural, undetectable results, try a wig with a clear lace and clean hairline like XrsBeauty. Unlike regular pre-plucked wigs, these have a piece of translucent lace on the forehead, which creates a natural hairline and directs the hair away from the face for a seamless look. They also add some more hair at the hairline to simulate a natural hairline, not just pluck it. As a result, they blend in with your skin so that no one can tell you're wearing a headpiece. 
You should also pay attention to the cap's construction and grip because those will significantly impact your comfort. For example, if you have Alopecia Totalis (a skin condition that causes you to lose all your hair) or another medical condition that led to hair loss, you'll need a wig with a tighter grip. Also, if you have an active lifestyle and you don't want to worry about your wig slipping off when you're training for a marathon or going rock climbing, you'll feel more confident wearing a wig with a tighter cap.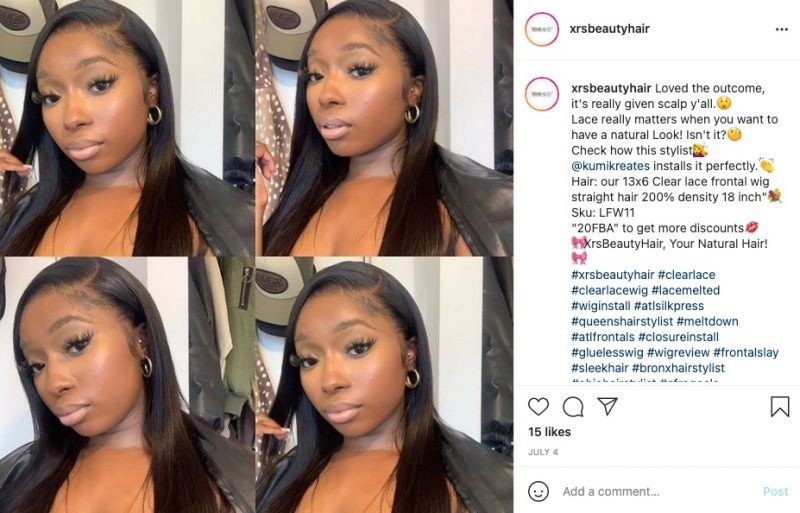 For more wigs, check out XrsBeauty on Instagram. 
WIG STYLE
Let's move on to the fun part, shall we? There are so many fantastic wig styles and colors out there that we won't blame you for not knowing what to choose first. One good rule of thumb, if you want the wig to resemble your natural hair as much as possible, is to go with similar color, density, and texture.
However, if you're going to have fun and experiment with different hairstyles, there are no rules – especially if you're going for a natural hair wig that can be styled, cut, and colored to your heart's desire. You can get it bangs, a bold shag haircut, or even dye it green. With synthetic hair wigs, you won't have the same flexibility, so you'll have to look for a style that matches you right from the start.
No matter what style you prefer, make sure you measure your head size in advance – this is key to getting the right fit. If the wig is too tight, you'll get a headache. If it's too loose, it might fall off. A professional wig shop will have a wide size range, and you may even be able to find a wig with an adjustable band so that you can make it looser or tighter throughout the day.
FROM – https://www.fashiongonerogue.com/wigs-are-the-latest-hair-trend-heres-how-to-buy-one-for-the-first-time/