In an excerpt from David Yi's new book, "Pretty Boys," the author explores the historic and cultural significance of the Korean superstars and their approach to self-love and self-expression.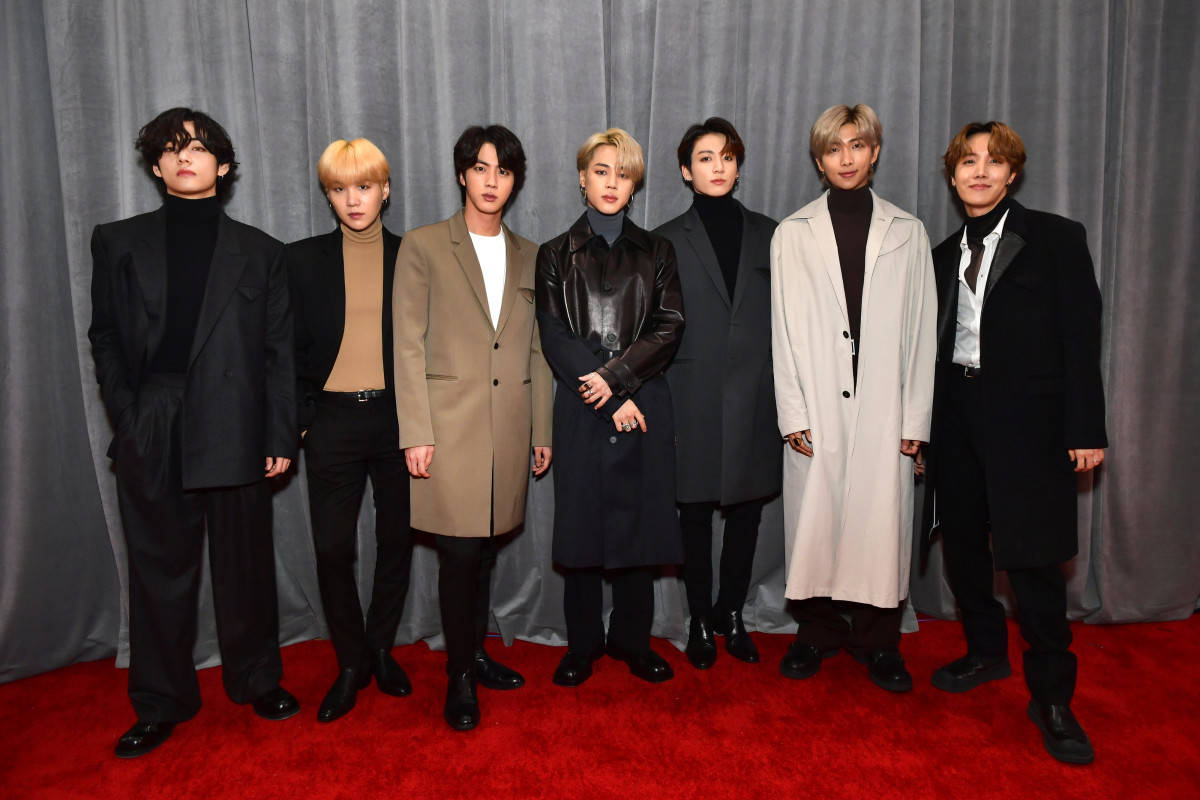 The following is an exclusive excerpt from David Yi's new book, "Pretty Boys," available for purchase here. Published and reprinted by permission of Mariner Books, an imprint of HarperCollins Publishers.
In 2020, BTS (Bangtan Sonyeondan) became the first South Korean band to make it to number one on the Billboard Hot 100 with their single, "Dynamite," beating out Cardi B and Megan Thee Stallion's "WAP," Harry Styles's "Watermelon Sugar," as well as Drake's "Laugh Now Cry Later." It was historic, as no South Korean music act had achieved such a feat — ever.
But it also wasn't unexpected, as the group had already achieved so much. This is BTS after all, the biggest boy band on record. BTS sold out world stadiums in mere minutes; shattered multiple records, including having the highest number of music video views in 24 hours for "Dynamite"; and are tied with the Beatles for most number one albums in a single year (three). For all the acclaim and adoration they've gotten, BTS has also prioritized giving back to their fans and communities: In 2020, the band silently donated $1 million to the Black Lives Matter movement, and they've partnered with UNICEF on "Love Myself," a global youth antiviolence campaign.
This deep empathy for others perhaps stems from the band's own experiences with adversity — after all, BTS was a K-pop group once considered a failure even before they debuted. During their rise, the seven members of BTS faced immense scrutiny and a range of adversities. But what makes BTS so remarkable isn't their music, flashy dance moves or dewy complexions — rather, it's their ability to connect to their audiences on a human level. Each of the members have been outspoken advocates of mental health, self-love and self-worth, as well as lending individual support to communities in need, all in a conservative country where these multilayered topics are still considered controversial.
Today, their stories and songs of resilience inspire millions of fans around the world to find the beauty in themselves and become advocates. BTS's fans — the ARMY — resonate with the group's overall message: To conquer the world, you have to love yourself first; to love others, you must confront who you are. Online and off, ARMY spreads messages of love, rallies behind political activism and donates to causes on BTS's behalf. They might be the most uplifting fandom of any musical artist in the world (in history!).ADVERTISING
The first BTS member recruited for the group is a K-pop misfit, a rapper named Kim Namjoon (who'd later go by RM), a teen already making a name for himself on the underground hip-hop scene. He's impressive, but doesn't necessarily fit the traditional K-pop aesthetic: His skin tone is deeper, in contrast to Korea's fixation with milky complexions; his eyes are more almond in shape, without double eyelids, which goes against Korean beauty standards at the time.
All of this isn't germane to visionary producer Bang Si-Hyuk of Big Hit Entertainment, and he signs the musical genius on the spot. Bang is on a mission to dismantle the notorious corruption in the K-pop industry, inspire youth and make change in stifled South Korea. To do so, he isn't leading with what other agencies would be looking for. For him, it's not only raw talent, but empathy — young people who are on the same mission of change.
Years later, Bang and RM convince six other talented teens to join their band of misfits. They include Min Yoongi, a fellow rapper who'll later go by the name Suga (short for "shooting guard," for his love for basketball) and Jung Hoseok (J-Hope), a strong dancer who would round out the rapper lineup. The four others include the band's vocalists: Kim Seokjin (Jin), a freshman college student studying acting; Park Jimin, a modern dancer, still in high school; Kim Taehyung (who'd later go by V, for "victory"), a singer with an unusual husky voice; and Jeon Jungkook, the maknae ("youngest"), a shy but charismatic middle schooler. Together, they're the Bangtan Sonyeondan ("Bulletproof Boy Scouts"), aka BTS. The significance of the name: "to block out stereotypes, criticisms and expectations that aim on adolescents like bullets."
They move into a claustrophobic one-bedroom apartment. Eat, sleep and train K-pop, dancing and singing for twelve hours a day, balancing school on the side. All the while, they're documenting their fears, hopes and aspirations on the Twitter account that their agency launches before their debut. Interacting with fans, posting selfies and backstage videos and showcasing their personalities, they gain a small but active fan base.
When their debut finally arrives in 2013, Bang is running out of funds. The company is on the brink of going under. And it shows: When BTS hits their debut stage, some commenters suggest their look is amateur at best. With baggy outfits that awkwardly hang off their bodies, haircuts that are shaggy and eyeliner that some say is a bit too dark, they pale in comparison to other established and polished acts. But what they lack in aesthetics, they make up for with immense showmanship. For one, Jimin becomes an instant flirtatious heartthrob, playfully showing off his abs; Jungkook hits high notes with ease; RM owns the stage with his cyphers; J-Hope moves his body with fluidity; Suga slays with his rap verses; Jin's visuals send hearts aflutter; and V's overall singing and dancing make him a super-versatile stage presence.
While other bands at the time sing about unrequited love, BTS is hyperfocused on telling real stories of youth experiences. They write about complex topics, ranging from societal pressures on young people, prejudice toward the disenfranchised and the anxieties that come from growing up in South Korea. But it doesn't quite translate: Their first lead single, "No More Dream," hits the music charts at #124 and falls off quickly afterward.
Though they continue to push through with better performances, elevated outfits and makeup, they become lost in the sea of competition. Soon enough, television stations begin cutting their performances short, canceling meet-and-greets and labeling them as failures. To make matters worse, online trolls target the group's members and bully them for their appearance. Other music artists openly criticize them as well. 
FROM- https://fashionista.com/2021/06/david-yi-pretty-boys-book-excerpt-bts-beauty